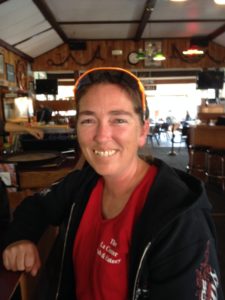 Kristy Erlandson works the day shift, Monday through Wednesday, 10:30 a.m. to 5 p.m. She has a bubbly personality and is a joy to be around. Kristy says she loves the La Conner Pub because it is "everyone's bar and has a family atmosphere." She says all types of people come in–blue collar workers, people in suits, locals, tourists, motorcycle riders and boaters. She likes the day shift because there is a "mellow lunch crowd, where everyone is happy." Kristy has been working here for just over four years now.
She's is a big Seahawks fan. She and her family go to a different away game every year. Last year they went to New Orleans. She has also been to games in San Francisco, Dallas, Atlanta, Phoenix, and Jacksonville.
Kristy has a daughter, Tatum, who races sprint cars in Deming every other Friday during the season. Tatum has been racing cars since she was 11 years old, and her car is proudly sponsored by the La Conner Pub & Eatery.
Come in soon for lunch and say hello to Kristy!
Meet Jenny Martin.  Jen works Saturday nights and days on Tuesdays, Wednesdays and Thursdays.
Jen is a local girl.  She was born and raised in Concrete, Washington.  She lives in the Swinomish Tribal Community now with her husband, Charlie, and her four children ages 9 to 19.
Jen likes working at the La Conner Pub.  She says, "I like the winter locals and the summer tourists."  She also likes it because it's always busy.
Something interesting about Jen is that she has a great memory: she rarely has to write orders down. Moreover, you never have to wait for service.
Jen is a big Seahawks fan and a Mariner fan.  She and her family attend games regularly.  They all attended the final Mariner game.
Come in and see if Jen can remember your order!